Closing Arguments
CIDRA president Peter Baugher presented a paper drafted by he and CIDRA Law Associate Scott Leonard on ADR to the ISBA conference on international intellectual property law. The paper is attached to this email.
Former CIDRA executive director Teresa Frisbie was recognized by the Center for Conflict Resolution for 10 years of service.
CIDRA invoices should be arriving shortly. Please remember to return them on time.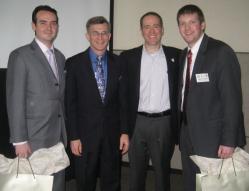 First place oralist Josh Heffernan (Loyola Chicago) and Second place Jared Kemper (Hamline University) with CIDRA president Peter Baugher and new CIDRA arbitrator Lawrence Schaner
Congratulations to Josh Heffernan for his victory in the Vis Mini-Moot sponsored by CIDRA, Loyola University Chicago School of Law and the Chartered Institute of Arbitrators. Josh was runner up for best Oralist in the Hong Kong competition. Other Loyola students receiving praise in the international competitions were Beata Guzik (honorable mention-best oralist, Hong Kong), and the Hong Kong respondent's brief was third runner up. Josh's performance earned him a summer job at Orrick Coudert in Hong Kong. Finally, John Robilotto, member of the Vienna team, earned a full scholarship to attend the University of Stockholm for a master's degree in international arbitration.
NOTE FROM THE EDITOR:
It is our goal to bring you timely and relevant news briefs concerning international commercial arbitration. Please let us know what interests you and your practice. Email me with any comments, suggestions or ideas for future events, speakers and issue coverage at . I look forward to hearing from you.
Sincerely,
M. Scott Leonard
CIDRA Law Associate