Mauro Rubino-Sammartano on
Arbitral Awards versus Court Judgments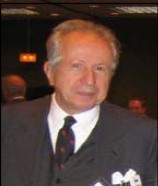 Mauro Rubino-Sammartano
On January 12, 2010, CIDRA hosted Professor Mauro Rubino-Sammartano as the featured speaker of its CIDRA breakfast hosted by Jenner & Block LLP. Mr. Rubino-Sammartano is an eminent international arbitrator and President of the Cour Européenne d'Arbitrage (the Cour Europeenne d'Arbitrage in Strasbourg, France). Professor Rubino-Sammartano discussed "Why Arbitration Must Be Different and Better than Court Proceedings."
In his lecture, he sought to answer why people choose arbitration as a means of dispute resolution over court proceedings. In doing so, he compared the two systems in terms of their distinct approaches, rules of evidence, and challenges and argued that although arbitration offers unique advantages over traditional court proceedings, practitioners need to continue to assess the arbitral system and address its shortcomings.
Mr. Rubino-Sammartano surmised that people turn to arbitration instead of the courts because arbitration offers them something not only different, but better — a "constructive dialogue" between parties and panel. Arbitration CIDRA Speaker's Corner provides the parties a "rule of symmetry," which allows each party to appoint their own arbitrator. Mr. Rubino-Sammartano was quick to point out, however, that, arbitration as a system has its weaknesses and that arbitration can only be as good as the arbitrators themselves. Mr. Rubino-Sammartano explained that arbitration is different from court proceedings in many regards. He explained that the strength of arbitration is that it more fully accounts for the intentions of the parties.
People turn to arbitration instead of the courts because arbitration offers them something different, a "constructed dialogue."
Mr. Rubino-Sammartano argued that of all the many challenges arbitration faces in order to be different and better than court proceedings, one thing arbitration needs to do is consider becoming more similar to court proceedings, in terms of its sole decision maker and appeals process. He suggested that like the sole trial judge, arbitration would benefit from having a sole arbitrator. He also argued that arbitration should embrace an appellate appeals process with a full review of the merits through a rehearing by a three member panel, as provided for in the Cour Européenne d'Arbitrage.
---
Howard Stovall on Arab Middle East Arbitration
On September 22, 2009, Chicago-based attorney Howard L. Stovall presented his paper "Arbitration and the Arab Middle East: Some Thoughts from a Commercial Lawyer." With a broad range of legal experience, Mr. Stovall devotes his legal practice exclusively to Middle Eastern commercial law matters. His paper is reprinted in this edition.
Mr. Stovall began the CIDRA meeting with a general overview discussion of divergent historical and legal perspectives concerning arbitration in the Middle East. Although a well-recognized form of dispute resolution in the Islamic Middle East, the practice of Islamic arbitration appears to be more closely related to western notions of conciliation rather than a process of "arbiter-imposed judgments." He noted that, in the past, disputes involving trade between the Middle East and the Western world simply did not involve arbitration.
Mr. Stovall's canvassing of modern era Middle East juridical practice reveals that many Arab states have enacted and/or modernized national arbitration laws patterned after UNCITRAL. Still, despite a number of international commercial arbitration cases and active arbitral centers (e.g., Cairo, Beirut), some Arab states remain suspicious and hostile towards arbitration.